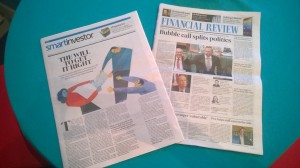 I've been 'on about' the dangers of DIY Wills for a long time, so it is awesome to have our hard work at Welden & Coluccio Lawyers acknowledged by a publication as esteemed as the Australian Financial Review.
A week ago Jason and I were interviewed by a journalist from the AFR.  In today's edition of the publication, 3rd June 2015, we were quoted for our opinions relating to DIY Wills in the lead article of the lift-out magazine, The Smart Investor.
Aside from feeling humbled by the opportunity to have our views included alongside those understood to be amongst the best legal practitioner's in the country, we are thrilled to be able to speak about a topic that we are so passionate about.
At Welden & Coluccio Lawyers, we pride ourselves on our commitment to keeping abreast of the latest laws and information relating to Wills and Estates.  Don't trust your legacy to anyone else.  Call Greg Welden or Jason Coluccio today on (08) 7225 8703, and speak to the Wills and Estate experts at Welden & Coluccio Lawyers.