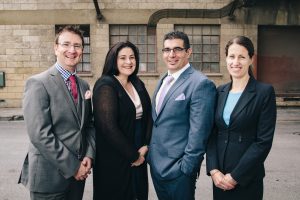 Welden & Coluccio Lawyers are delighted to announce we have again been named by our peers as one of the best Wills and Estates firms in South Australia.
Announced on Tuesday September 11, our listing in the prestigious Doyle's Guide for the third consecutive year is a vote of confidence by other lawyers in the quality of service we provide.
Being listed in Doyle's Guide is like a chef receiving a Michelin Star; it's a sign of excellence that's earned through hard work, determination and consistently delivering the highest quality results and service.
Those named in the guide are selected by their peers to recognise good work in the industry and help consumers choose a lawyer.
Given this firm is only four years old, to be named in Doyle's Guide three years in a row is an achievement that is not lost on us.
Greg Welden and I founded this firm in 2014 because we didn't like the way big law did business. We'd rather look after mums and dads than chase multinationals.
Families shouldn't be treated like numbers. The only numbers we care about are how many goals your kids kicked on the weekend, or how many grand kids you have.
Estate planning is a complex, specialised field of the law. We strive to make your experience as simple as possible.
Because everyone deserves a quality estate plan, to maximise their children's inheritance and protect their assets for the future.
Our services are cost effective and can save you and your children thousands in the long run.
Importantly, Welden & Coluccio featured in all categories of this year's best Wills and Estate Lawyers announcement, full details below:
Leading Wills, Estates & Succession Planning Law Firms – South Australia, 2018 (2nd tier) – Welden & Coluccio
Leading Lawyers Estate Planning Lawyers – Greg Welden, Jason Coluccio (recommended).
Leading litigation firms – Welden & Coluccio (2nd tier)
Recommended Wills and Estates Litigation Lawyers – Jason Coluccio and Greg Welden.