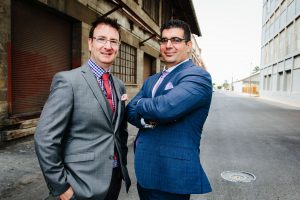 So, the 2018 university year is underway and all over Australia, students enrolled in law degrees are taking their first steps towards the life of a lawyer.
Every year, around this time, I like to look back on my own experiences at law school, and the questions I had as a fresh-faced student suddenly swimming against the tide, memorising what felt like a million cases while learning and how to navigate the maze of public policy.
A law degree is a huge commitment. Like many young people, I worked full time to support my studies. It was hard going. And, like many in my class, facing all those late nights and lonely weekends pouring through cases and textbooks, I wondered whether the career at the end would make it all worthwhile.
Perhaps the hardest part was knowing what the job was really about. Were all these late nights of study worth it? What would my day-to-day entail?
So, with that in mind, for all those lawyers-to-be just starting at university, here's what a typical day looks like for me.
5.30am: Wake up.
6am: Gym. The life of a lawyer can be stressful, and you can spend a lot of your time behind a desk. Get some exercise, it'll make all the difference.
7.20am: Home for breakfast. I'm lucky enough to work with my wife, Maddalena, who is also a lawyer at Welden & Coluccio. I'd like to say this is a leisurely meal before the day proper kicks off, but usually we're going over notes or discussing the matters we'll be dealing with that day. Work starts early – fortunately we both love it.
9am: Arrive at the office. This can be a frenetic start. We'll have property settlements to finalise, or court documents to lodge, and our admin staff will be looking for signatures or instructions on progressing a matter. It's common for me to have a dozen emails waiting, all of them urgent.
10am: Meet with client to sign Will documents. At Welden & Coluccio, we're estate specialists, which means there's lots of face-to-face interaction. A lot of law students probably think wills and estates are boring, but I love it. You're helping families to ensure their kids have a bright future, and we really get to know our clients well. I'd even say some of them have become my friends – you don't get that as a criminal lawyer.
10.45am: Supreme Court for a Directions Hearing. Believe it or not, where possible, we try to avoid going to a full trial, especially when it comes to estate law. Trials are expensive and time consuming. With some careful work behind the scenes, matters can often be resolved before the need for a trial, saving our clients significant fees. Directions hearings can be very handy in this regard.
12noon: Lunch on the go. Get used to eating "al desko"; on the job. During this time, I'll catch up on emails, phone clients to discuss their matters and dictate notes for transcription. I'll also check the baseball and NFL scores – thank god for smart phones.
1pm: Meet with consulting Barrister to discuss upcoming Supreme Court trial. Of course, sometimes litigation is unavoidable, which is why we retain the services of a Senior Counsel. These meetings are serious business – evidence is reviewed, strategy discussed, and everything double checked. Trials are like chess, and you don't want to leave anything to chance.
2.30pm: Return to the office/progress cases. Like any small business, we have a heavy workload. It's common to be working across anything up to 20 matters at a time. For some matters, all that might be required is a phone call. For others, we can be preparing reams of paperwork. You should see me at the photocopier – it looks like something from star trek I'm so used to working the menu keypad.
4.30pm: Meet with client to discuss a new will.
5.30pm: Home. I'd like say this is where the day ends, but the reality is I'm just shifting to home so I can keep working in a more comfortable setting.
And here's the kicker for young law students. Most nights, I'll probably keep working until 9.30 or 10pm. Sure, that's partly because I'm the principal at the firm, but it's also a reality of life in the law. Every matter you deal with requires care and attention to detail. Every client you see, you owe them a responsibility to discharge your duties as a solicitor to the highest professional standards.
There's a reason they call it a "life" in the law.
So, is it worthwhile?
Absolutely.
You've made the right choice.