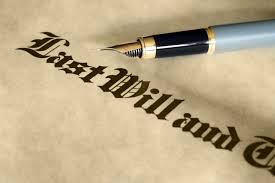 While watching the footy one Sunday afternoon, an advertisement for an insurance company came on the television. In addition to selling insurance, the company told viewers that if they signed up within the next month they would receive, free of charge, a Will Kit. I imagine that a lot of people watching the advertisement thought it was a good offer. After all, who can resist a freebie?
A Will is one of the most important documents that we should ever sign our name to. Yet, astonishingly, many people of all ages still don't have a Will or choose to draft this important document using a DIY Will kit.
While not having a Will at all brings with it its own bundle of issues, having a DIY will is only marginally better. Unfortunately (probably a symptom of the lean economic times), we are encountering an increasing number of invalid or deficient wills, prepared by people using "do it yourself" will kits sold through newsagents and on the internet. In truth, these kits (which sound like a good idea at the time) too often are the cause of many headaches, with lawyers being the only people who really benefit.
What can go wrong with a DIY Will kit? In short, anything and everything. From the wording of the document, to the required formalities for how it must be signed and witnessed before it can be valid, all of which will leave the deceased dying intestacy (in other words, dying without a valid Will). When any of the above happens, someone needs to resolve these issues and the only person capable of doing this is a lawyer. A lawyer who will need to spent a significant amount of time to resolve these complicated issues. It follows then that, the 'free' or 'inexpensive' DIY Will has the potential to turn into a massive headache resulting in great expenses for the family once it is actioned.
Of course, many people have prepared their Will prepared by the Public Trustee. This is advertised as a 'free' service. Indeed, you will receive a fairly basic Will (not necessarily drafted by a lawyer) and it won't cost you anything at the drafting stage. The catch is that a Will prepared by the Public Trustee is drafted with the condition that the person appoints the Public Trustee as Executor and Trustee.
"So what? I don't mind that so much," I hear you say.
What many people do not understand is that the fees charged by the Public Trustee to administer the Estate are nearly always significantly higher than our fees for obtaining a Grant of Probate. For example, an estate of $600,000 would attract a fee of $19,800. Please note that this cost does not include the preparation of documents to be lodged in the Supreme Court (currently $1,114) and the administration of the estate (impossible to calculate but this could be ongoing when children are involved).
"But don't lawyers charge a lot too?" You may well ask.
Not usually this much. You see, Welden & Coluccio Lawyers charge on a percentage of the value of the estate. Our fees are based on the complexity of the matter. It all comes down to time, and nearly $20,000 in fees equates to a huge amount of time. Time that is generally not needed for your average estate (assuming you have a well drafted Will).
As technology continues to evolve, the consumer is confronted with more choices about how they might go about getting their Will drafted. Increasingly, online legal providers are offering the public low cost Wills generated instantly. Essentially, they have reduced a Will-making to a few mouse clicks, drop-down boxes and buttons. Problem is, no matter how complicated they seem, nothing can replace having a real person in front of you. Nothing can replace having someone who understands the nuances of estate planning and has the talent to adapt this to suit your individual needs and circumstances. Of course, even with a Will generated online, you still have the problem of ensuring that it is signed correctly. In essence, an online Will generator is really just another form of a DIY Will kit (with all the problems of its more primitive relation). It is a choice that is fraught with risk.
"But I'm pretty straightforward. Surely a DIY Will shall suffice?" I hear you ask.
We lawyers hear this all the time; and yet, I actually meet few people whose lives are 'legally speaking', uncomplicated. Family structures in 2016 are complex and what you consider to be normal (blended families, mixed asset classes, choice of profession) actually requires careful management when it comes to the wording of a Will.
As you can see, whichever way you look at it, there is no such thing as a 'free Will'.
No matter which way you go; DIY Will Kit, online Will or Public Trustee, at some point you will pay (financially or emotionally). At Welden & Coluccio Lawyers we advise that you save yourself the headache and go with the peace of mind that only a professionally drafted Will, following an in depth consultation with an experienced and qualified lawyer can provide.