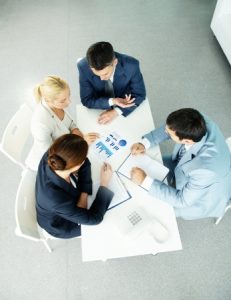 When one thinks of law firms a few images spring to mind.  Musty old books, polished hardwood floors, oversized mahogany desks and lawyers pigeon-holed in their own space across more than one floor (of what is often an old stately building).  It is a set up that is generally conducive for solitary practices.  That is, solicitors working on their own independently of one another.
When Greg Welden and I set about establishing what would become Welden & Coluccio Lawyers we had a vision of creating a law firm much like the one described above.  I won't deny it; I wanted the whole picture, from the leather inlaid partner's desk to the granite-tiled foyer serviced by a smile-plastered receptionist.  Problem was, the more we discussed it, the more it became a vision that just did not make sense.
This traditional approach to developing work spaces for a law firm is really an expensive way to do business.  Since we were reluctant to take on massive loans to fund such a start-up, discussion soon turned to suitable alternatives.  What if we moved to collaborative workspaces?  What if we shared the costs of a receptionist with other businesses?  Clearly the above solutions made sense from an economic rationalist perspective.  Reducing our running expenses would be beneficial for us (lowering our start-up costs) but it also made sense for our clients who would not bear the burden of our excesses in the form of inflated fees.
However, as we quickly discovered, the greatest fruit of developing a collaborative workspace was found not in cost reductions, but in the professional benefits and the manner with which this structure influenced the way that we practiced Law.  It has already been mentioned that in the traditional model solicitors have a tendency to work in isolation from their professional colleagues.  This geographical isolation consistently extends to them becoming philosophically isolated from their peers.  It is a place where collaboration is not usually apparent.  We quickly discovered that working in close proximity to one another (4 solicitors each with varying skills and levels of experience share the same work-space, with a single conference room used solely for the purpose of meeting with clients), meant that we were more likely to work-shop solutions to problems in a team-based manner.  It was a move which also ensured that less experienced solicitors were able to draw directly from the knowledge of senior lawyers.  As it turns out, this is a win-win situation with our clients being assured of having a team of lawyers working on their matter with more than one perspective being put forward as a solution to any of the many dilemmas that might emerge in this industry.  Furthermore, the decision to locate ourselves within buildings with complementary providers (Financial Planners, Real Estate Agents and Accountants) enables us to share in the cost of a receptionist whilst also giving us (and them) access to specialist knowledge under the one roof and, naturally, a steady stream of referrals for all.
The model described above is one which was so successful that we were inspired to replicate it when establishing our Flinders Park office.  More recently we adjusted our floor plan at Prospect as a means to further facilitate opportunities for round table discussions.  In the near future we plan to further enhance the flexibility of these spaces with the complete phasing out of traditional desks and the introduction of automatic sit or stand desks.  We have also entertained the possibility of leasing additional rooms and setting these up with similar floor plans, possibly including individual carrels (for when isolation is necessary) and lounges for group discussion.  Similarly, we continue to experiment with introducing 'green spaces', using aromatherapy, along with a focus upon decorating the space in a style which tends towards the domestic rather than the commercial.
With the benefits far outweighing the drawbacks we plan to continue to push the envelope of what a Law firm looks like even further.  Of course the major downside for us is that sometimes this is a space which can become too collaborative (read noisy), but nothing that a great set of headphones can't fix.
Speak to the estate specialists at Welden & Coluccio Lawyers, where you can rest assured in the knowledge that We, as a team, will work collaboratively to devise innovative solutions to achieve Your desired outcomes.