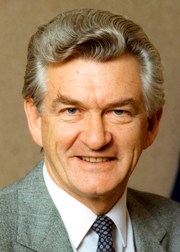 The late Prime Minister Bob Hawke is best remembered for two quotes.
The first, barked to reporters over popping champagne corks at the America's Cup, is perhaps his most treasured: "Any boss who sacks anyone for not turning up today is a bum."
The second, rehearsed and delivered with poise and measure, haunted him: "by 1990 no Australian child will be living in poverty".
It's a promise that could never be kept.
It's ironic then, that Mr Hawke's own daughter is apparently set to challenge his Will on the basis that she's dipped out in his estate.
A recent article published by The New Daily claims that Mr Hawke's daughter is preparing a challenge to the late PM's estate, after the lion's share of his wealth was left to his second wife Blanche d'Alpuget.
According to reports, Ms d'Alpuget is set to benefit from the entire estate, including the sale of a $15m Sydney mansion, whereas Hawke's children (from his first marriage to Hazel) will receive about $750,000 each under a deal separate to the Labor legend's Will.
Ms d'Alpuget's own son also received such a payment.
While we make no judgement as to the late PM's relationships with his children, or the merits of such a claim, it's worthwhile discussing how a claim like this might work given even a former Prime Minister needs to have an iron-clad estate plan in place.
At the centre of any such estate claim is the concept of inadequate provision; that your parents didn't leave you enough money in the Will to ensure you're taken care of in the future.
$750,000 sounds like a lot (it is a lot), but there's a good argument that Mr Hawke's children deserve a greater share of his substantial wealth given they are blood relatives, maintained good relations with their father and, arguably, didn't enjoy the fruits of his early labour (pun intended) when Mr Hawke was merely a trade union official and low-ranking politician yet to accumulate his fortune.
However, without knowing how much wealth Ms d'Alpuget brought to the relationship, it could be that a long fight is just beginning.
It's a classic case of the difficulties in preparing an estate plan for a blended family, because as soon as you remarry, the list of those who can potentially claim against your estate grows.
It takes care, skill, foresight and some creativity to be able to achieve either the right balance so a claim can be avoided or a legal scenario where a claim is fruitless or cannot be made.
Even ex-Prime Minsters need expert advice about estate planning if you are in a second relationship and either (or both) have kids.
If you're planning your estate, or considering a challenge to one, contact Welden & Coluccio Lawyers – we're the estate experts.