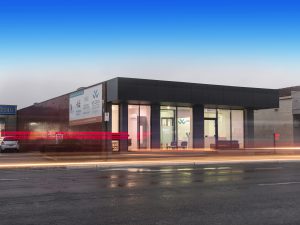 In August this year, we were lucky enough to move into our new, purpose-built offices at 179 Grange Road, Findon.
What made Findon such an attractive proposition? Aside from our desire to grow the business in Jason's home neighbourhood, our new building began life as a branch of the Commonwealth Bank and still houses their walk-in bank vault. Why is that important? Because safe storage is a huge part of our business.
Not many people have been behind the screens at a bank, so when our clients see where we store Wills and other important deeds, most are awestruck.
This vault isn't a toy. It was built to safeguard millions of dollars in cash. It's fire proof, the door weighs more than a small car and it's rated to withstand explosives. It would take some serious machinery to break through the walls. That's why we have safety protocols for accessing the vault including a rule that no one enters unless another staff member is on site and knows you're going in.
Short of an underground bunker, there probably isn't a safer place for you to keep your valuable estate documents.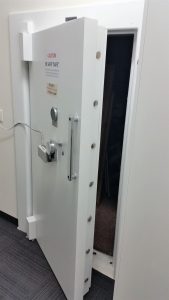 Despite this, we still encounter people insisting on keeping their important documents, like a Will, at home.
In theory, there's nothing wrong with this, but if you're not in the business of storing important documents, things can easily go wrong.
Let's start with the most common home document storage solution: a cardboard concertina file, or plastic storage container, purchased for less than $10 from the local office supply store. These are fine for your washing machine warranty card, or parking receipts you're keeping for tax time, but you'd be nuts to keep anything of real legal importance there.
A close friend of mine once lost years' worth of important business records when the washing machine overflowed and flooded their spare room, which had business records stored in archive boxes on the ground.
What about a filing cabinet? Sure, they're a little safer, but what happens if there's a fire or you're burgled? Filing cabinets offer no protection against flame and are a cinch to pop open with a screwdriver, as anyone whose lost that fiddly little key will attest.
What most people don't consider, however, is the life-span of a Will. Although we recommend revisiting your estate plan every four years, many people keep a Will for 20 years or more. Think about the changes that have happened in your life over the last 20 years. You've probably moved to a new house, had a major cleanout, been divorced … can you really guarantee you'd know where all your important documents are after all that time?
Is that the sort of risk you want to take with share certificates? The deeds to you home? Your Will?
Even if you were to spend some money and invest in a fire-poof safe, there isn't much available under $1000 that I would trust, and let's face it, who really wants a 150kg steel box in their home anyway?
At Welden & Coluccio, we store all our client's important estate documents in our bank vault free of charge. We have monitored security and computerised backups of everything kept on file.
We provide our clients with certified copies on request and in some cases have even spotted mistakes in documents prepared elsewhere that can save our clients' thousands of dollars.
You can't find safer storage than a bank vault. Why would anyone risk it?