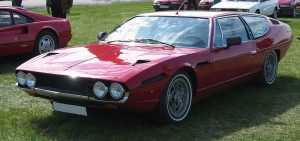 A battle over a stolen Lamborghini has shown that possession really isn't 9/10th of the law.
It all began when a widow went searching for her late husband's prized Lamborghini Espada, gifted to her in his will and thought to be stored in a farm shed, only to discover the car had been stolen.
Some time after it was pinched, the car was bought by a collector, who had it in his possession for four months before being contacted by local police who suspected the car might be hot.
Over the next two days, the collector did a search and discovered there was no security interest listed for the Lambo on the Personal Property Securities Register (PPSR).
He then had the car mechanically inspected and registered the car in his own name before surrendering it to police.
The Personal Property Securities Register is a national online register that can provide information to help protect consumers when they are buying personal property such as cars, boats or artworks (not including land or buildings).
If you check the PPSR before you buy, you can find out if the item you are buying has a security interest attached to it. This is important because if you buy property subject to a security interest, it is possible that the person or entity with the security interest will repossess it.
Registering the car on the PPSR in this case might provide some protection for the collector's investment – assuming the purchase was made in good faith without knowledge of the car's theft – in the event the party the claiming the car as stolen property couldn't prove ownership.
But the courts disagreed, including on appeal in the Supreme Court.
The courts found the car's original owner didn't have to register a security interest in the vehicle as it was gifted in the will of the rightful legal owner, even though the car was never registered in the beneficiary's name.
It just goes to show – a legal will is a powerful document, and in this case, it's helped get a modern classic back in the hands of its rightful owner.
POST SCRIPT:
Of course, the Fast and the Furious movies would be very different if a team of glamorous international car thieves spent their lives battling a bunch of estate lawyers, but excuse us for getting excited about the power of a good will. It's what we do.