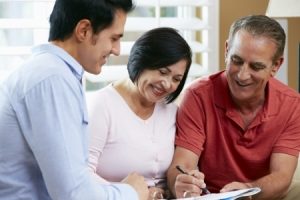 Each morning I like to watch a few minutes of Sunrise.  At least I do, until I realise that the kids are no-where close to being ready for school (and the grumbling ensues).  At any rate, yesterday morning, I happened to catch a report about the rise of 'Mum and Dad Banks'.  This is the term that has been coined to describe a situation when parents provide money or security to assist their children to jump onto the property ladder. . . although usually not at the bottom (as most of us did, and perhaps where they should).
The story continued, suggesting that a whopping 52 percent of all first home buyers in this country required some sort of financial assistance from their parents in order to secure their first foothold on the property ladder.
While the story was primarily focussed upon housing unaffordability throughout Australia with 'Family Pledges' as being a realistic solution to this problem, I was thinking 'Oh no! Please don't go there.'
Let me state, from the outset, that Family Pledging is a risky strategy.
So what exactly is a 'Family Pledge'?
Essentially it is a guarantee.  It is a guarantee that you (the parent), should your offspring fail to meet their financial obligations or find themselves in a situation where they are unable to make their loan repayments, will undertake to pay the debt.
In most cases, Family Pledges evolve like this.  Son or daughter finds the perfect property (often expensive and close to the CBD).  They approach the bank presenting their meagre savings and are swiftly declined.  The initial 'No' is soon replaced by a 'Yes' along with the provision that a family member (usually Mum and Dad), put up their home as a security for the loan.
In recent times, especially as house prices have risen, this has evolved to be an effective strategy used  by banks.  After all, they know how hard it is for parents to say no to their kids.
The nature of these pledges, I mean 'guarantees', is that the bank will demand that parents go and seek their own independent legal advice on the guarantee document they are about to sign.
Why?
Well, they know that there is a lot at stake if things go wrong and they are seeking to absolve themselves of all liability if it does.  Make no mistake the stakes are indeed high, the kind of situation that has Mum and Dad losing the very roof over their own heads.
While I'd like to say that we have parents beating down our doors asking for legal advice on such documents, the reality is it doesn't happen.  Lawyers seldom, if ever, provide advice on these kinds of documents.  You see, parents want to help their kids.  More pertinently, and assuming that they believe their kids are financially responsible, they seem to believe that the main (and only) risk is that their kids will be remiss in their repayments.  Unfortunately, there is no 'peace of mind' to be found in this belief.  You see, even the most financially astute person can fall victim to relationship breakdown.  Yes, should your child and his partner separate, chances are they will not be able to afford the loan repayments and you will be called upon to pay off the huge interest that has accrued.  I mean, let's face it, if they could they would not have needed you to go guarantor in the first place.
The bank knows that very few people will seek advice on such a document and will never even consider such a scenario or countless others (job loss, illness) all which have the potential to leave you in a precarious situation.
The bank always wins.
Always.
Consider this.  If your son has a $100,000 loan with the bank and has it paid down to $30,000 but THEN defaults on his payments, the bank may want YOU to repay the $20,000 credit card AND the $25,000 personal loan he has with the bank also.  It is all in the fine print.
An old gambler's truth is that you should only gamble what you can afford to lose.  Can you afford to lose your family home?  Your retirement fund?
I thought not.
All contracts, loans, guarantees and other important documents should always be examined by a lawyer. Visit Jason Coluccio or myself, for this and any other property related issues so that if you do decide to sign, it is with eyes wide open to all the potential risks.