If we're to believe books, TV and movies, the life of a lawyer is all about dazzling court room performances, stunned juries and people screaming "you can't handle the truth" from the witness box.
But how much is fact, and how much is fiction?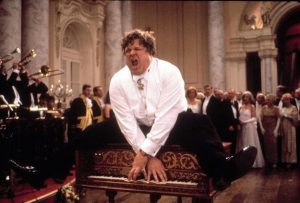 Just for fun, let's look at some famous movies and see how they stack up against real-life.
3: Mystery inheritance – you're rich!
In film:  An old, rich business owner, childless, passes away with no will in place. After a lengthy search for an heir, lawyers trace the family tree to a nephew fifteen times removed. Down on his luck, he inherits the lot, becomes and instant millionaire and hilarity ensues.
The movie: King Ralph

In reality: We hate to be the bearer of bad news (because it's a great premise for a movie) but if you're hoping a rich relative you've never met leaves you a fortune, don't hold your breath.
In Australia, when you die without a will, your estate is handled by the Office of the Public Trustee.
It's their job to work with the remaining family to ensure bills are paid, and a fair distribution of the estate.
In cases where there's no family locally, the public trustee will search for relatives overseas, but there's only so much they can do.
After a while, if no relative can be found, that money reverts to the Crown…aka the government. Sure, it can be claimed back later if a relative can be found, but it's a pretty fair bet to say that's not going to happen by this point.
The lesson? Even if you don't have any children or family, unless you want the government to get it all, develop an estate plan using a skilled wills and estates specialist like Welden & Coluccio.
Better for your preferred charity to get a windfall, don't you think?