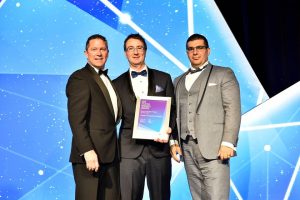 Prospect law firm, Welden & Coluccio Lawyers, were recognised for excellence in the field of estate planning and administration Tuesday 5th June 2016 at the Telstra Business Awards. The firm was selected as one of 5 finalists within the category 'Best New Business'.
Firm co-founding Principal, Jason Coluccio, reacted to this news by saying "The experience has left us both feeling humbled. Success in awards of this calibre is a powerful affirmation that the business model that we developed in 2014 is one which works." Accordingly, Coluccio attributes the success of the business to good old fashioned hard work, meticulous planning and a desire to make a meaningful difference in the lives of his clients. "The problem with lawyers is that they forget that the law is about people. In our business; people, especially families, remain core to everything we do." He goes on to explain that, "The decision to specialise in Wills and estates emerged from passion that bordered on obsession." Co-founding principal, Greg Welden identifies, "With the baby boomers aging, we are on the cusp of the largest transfer of wealth ever witnessed by any generation. Unfortunately, most law firms lack the expertise to effectively manage the complexities created by such a transfer that is only complicated further by the changing nature of families."
Welden & Coluccio Lawyers is a small, boutique law firm that brings a unique and fresh approach to the practice of law in all facets of estate planning, administration and litigation.   Since its inception in March 2014, the business has grown to two offices, Prospect and Flinders Park, and employs 5 solicitors with plans to extend this to include support staff in the coming months.
For further information please refer to our website www.welcolawyers.com.au
Welden & Coluccio Lawyers
194A Prospect Road, Prospect SA 5082