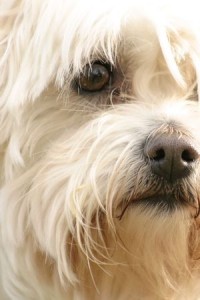 Our beloved Maltese terrier, Cooper, died a month ago.  Despite the fact that he was an old man of 14 years, it was still a fairly traumatic experience for the whole family.  Having made the difficult decision to euthanize him, we were next asked, "What would you like to do with his remains?"  Not having experienced, discussed or even considered this before, we had little idea of the options available to us.  After some deliberation we decided that the most fitting thing would be a cremation and burial of the ashes beneath a rose bush.  And so, with the family gathered one Friday afternoon, we planted him in our garden.  The children had some music selected for the occasion and we read a poem that made everyone tear up.  It was simple, but the perfect tribute to our much loved pooch.
This anecdote highlights a certain reality that as humans we are often quite disinclined to think about funeral options for ourselves (let alone our pets).  Indeed, many are adamant in their refusal to discuss the inevitable.  This is fine, so long as you don't have any qualms about what happens to you when you pass.  But what if you do care?  What if you have clear ideas about what happens to your remains after your death?  How can you ensure that these wishes are communicated so that they may be fulfilled?
Of course the most important thing with regards to these questions is communication.  It is crucial that you have the conversation with your loved ones prior to your death and while you are still able to.  While this is important it is also useful to have these wishes articulated clearly in your Last Will and Testament.  Furthermore, you may even take this a step further and prearrange (and pay) for your funeral and have this noted in your Will.
What do I mean when I say funeral options?
This is a huge question for which I can only provide broad generalisations for.  To begin with you may wish to consider your feelings in relation to organ donation.  Indeed, you may wish to forgo a funeral altogether and donate your body to Science.  Have this stipulated in your Will.
Assuming you want some kind of funeral (as most people do), you will need to consider what this will look like.  The most basic question of course is religious or secular.  With secular funerals nearly anything goes.  However, if you want a religious ceremony, it is important to stipulate what you mean by this.  For example, a "Catholic" funeral could mean anything from a simple service in a funeral chapel (presided over by a Priest) to a full scale Requiem Mass with Rosary, followed by a burial and committal.  Be specific about what you want.
Burial or cremation?
The other important question for most people relates to your preference towards cremation or burial.  In the past, at least in Western societies, burial was the only option available and there were strong religious beliefs to support this.  In choosing this option you may wish to express a desire to be laid in a plot in a certain cemetery in a certain manner.  For example, you may wish to be buried with your spouse and/or children.  In saying this cremation is now a popular choice, considered to be a more affordable and flexible option.  In choosing cremation you may wish to also stipulate your chosen resting place for your ashes.  The obvious options include burial in a garden plot in a designated cemetery, burial in a place of your choosing, kept in an urn with your next of kin, or even scattering of ashes in a place of special significance.  In recent years, some rather ingenious European companies have designed cylinders which you pour ashes into, which (when buried) will grow into a tree.  They have even developed special 'burial pods' whereby your loved one is planted in a foetal position inside an egg-shaped capsule which naturally decomposes, again leaving behind a tree.   While these options are not yet readily available, they are no doubt a glimpse into the future.  At any rate, whatever is your wish, if it matters to you, be specific about what you want.
It is important to be aware, when making plans about how your remains will be treated to consider the impact of current legislation in relation to where and how remains (including ashes) can be managed.  For example, it may not be possible to "officially" combine the ashes of more than one person.  Similarly, unusual requests, such as the traditional burial of human remains on a private property will need to be investigated and approved by the appropriate authorities.
What about unusual requests?
You may have clear ideas about your funeral that are a little unusual.  The more famous example is Walt Disney, who allegedly had very specific requests about the treatment of his body after death and subsequent cryogenic suspension.  This is supposedly a myth with his family highlighting that he was, in fact, cremated.  However, other unusual requests which I have included in Wills especially for war veterans, is a ceremony with full military honours.  Your unusual request may be more straightforward than this.  You may simply wish to express a desire for a certain piece of music to be played at your funeral, to be buried in an environmentally responsible casket or have a traditional Irish wake.
While death is by no means the most joyous of subjects, it is important that you are aware that you have a right to say how your life will be celebrated.  A Will, while being the most logical place to express this, can't guarantee that what you desire will come to fruition.  At the end of the day, what happens will ultimately be determined by what your family decide to do and is limited by the legislative and financial constraints at the time of your death.