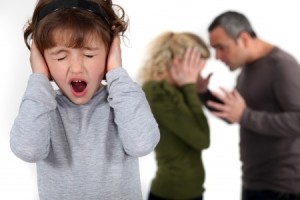 The decision to go your separate ways can be a heart wrenching one, not least of all for any children involved in the split.  In the midst of moving and legal dramas it is important for separating couples to consider carefully the process, the impact of this on your shared children and to develop a strategy to protect their wellbeing during what is inevitably a vulnerable time.
When speaking of children I make no distinction between a child of 5 or a teenager of 15.  Indeed, a marriage breakdown can be traumatic for any child irrespective of age.  Even adult children can react adversely to the news of their parent's separation.  Consequently, when going through a separation, it is important that you consider the ages and developmental stages of the children involved and act accordingly.
Pre-schoolers & Primary Aged Children
Very young children frequently lack the ability to articulate clearly their feelings about the separation of their parents.  As such their behaviours will often reflect the insecurities they are experiencing and possibility their frustration at not being able to meaningfully make sense of and express their thoughts about the changes in their lives.  Parents may notice regressive behaviours.  For instance, a previously weaned child may seek comfort with a bottle, breast or pacifier.  Similarly, a toilet-trained child may have accidents.  During these times it is also not unusual for new behaviours, such as bed-wetting, tantrums, stealing, angry outbursts to emerge, or for existing behaviours to worsen).  It is advisable to seek support with skilled professionals in these instances (psychologists, counsellors) and it is certainly worthwhile to remain in conversation with the family GP who can help to gain an overall understanding of the child's physical and emotional well-being.
It is important that parents use simple language to communicate to their child in an age appropriate way, the reasons for the separation, identify what this means practically for the child along with a strong emphasis upon what will not change (the love both parents feel for the child).  While the specific circumstances of a separation may make it difficult for you to speak of your ex-partner in a positive light, it is critical that parents avoid the temptation to use their child as the vehicle for venting their feelings.
It is recommended that parents inform other carers of their children about the separation (eg Director at the Child Care Centre) so that they may provide additional support for your child as needed and so they are aware of any changes to the logistics of collecting children and contacting parents. For children in a primary setting it is important to inform the school of the situation and also speak individually with the child's class teacher.  Many schools have access to onsite counsellors and, this, along with the support of teachers and staff can be invaluable in negotiating the challenges should they arise.
Secondary School Aged Children
Older children may react to the news of a separation in a range of ways.  While some teens may respond with anger, others may express feelings of grief, relief, a general apathy to the situation or they may become socially and emotionally withdrawn.   As with younger children, it is again important to discuss the situation with the child, adapting the language to suit the age.  However, unlike with younger children, teens will often expect to have a voice in how the separation will impact on their life.  Ideally it is best to negotiate arrangements in conjunction with teens and to recognise the importance of preserving their social connections and activities.
Of course a real concern here is when parents use their teenage children in the role of counsellor.  Remember any child going through their parent's separation will be dealing with their own feelings.  It is unfair to place the burden of your emotions on their young shoulders.
As with younger children it is important to notify your child's school of the situation.  Secondary schools are usually well equipped to deal with any issues that may emerge however this works best when there is strong communication between home and school.
 Adult Children
While adult children, living at home or not, can normally be expected to take responsibility for their own well-being, it is important to recognise that the news that their parents are separating may be accompanied by a sense of grief and loss.  Where adult children are still residing in the family home it is highly likely that the separation will directly impact their life and plans.  It is advisable to take the time to sit with your adult children and discuss your decision.  While adult children may not be directly impacted by the separation in terms of living arrangements other issues, including the future dynamics of family gatherings and events may need to be addressed.
In Summary
While the decision to separate from your spouse is a highly emotional one for you personally, it is important to consider the other lives immediately affected by this decision.  Children, irrespective of age will, encounter similar feelings of grief and loss and require time and space to digest and adapt to their change in circumstances.   As a parent, the manner with which you negotiate this critical time will have a lasting impact on the well-being of your child.  It makes sense then, to invest care and consideration into the way this is done while adapting to the developmental needs of the child concerned.