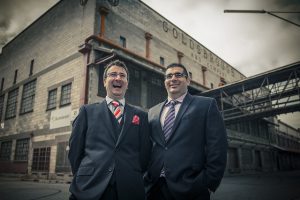 Today marks five years since Welden & Coluccio Lawyers was founded.
Looking back, it's hard to believe how far we've come from our first days consulting clients on plastic garden furniture while we sourced second-hand desks online.
We started small because this firm was born out of necessity. As established lawyers, we didn't like the way "big law" did business and vowed to start a practice that treated clients like family instead of numbers.
It's an approach to business that comes from who we are; two working class boys from Seaton and Pooraka who love family, sport and the pride in getting your hands dirty on the road to a job well done.
So much has happened since we started. We've won awards, litigated landmark cases, been consistently listed by Doyle's Guide as experts in our field and sponsored valuable community initiatives like The Ice Factor, helping at-risk youth stay on track.
From those early DIY days, we now employ six staff and are lucky enough to be growing our business from our new Findon headquarters at 179 Grange Road.
Our first business milestone was in 2015 when we branched into family law, adding Joanna Diamantopoulos' renowned expertise to our ranks. Shortly after, Anna Arace joined the team to head up our property conveyancing efforts, helping turn dreams into homes. And, just this year, we employed Natalie Rossi as our junior solicitor following an impressive post-university placement.
But it's not just the business that's grown. Jason and Maddalena were married in 2016 and now have a son. Greg's children are in high school, with his eldest on the verge of setting out on her own.
Most importantly, we've seen our clients' families grow and prosper, their businesses expand and dreams realised.
Yes, part of being an estate lawyer is seeing your clients pass away. Many of our clients are our friends, and it's never easy to say goodbye. But there's comfort in knowing you've established an estate plan that helps future generations of their family to benefit from the hard work of previous generations.
It just goes to show a lot can happen in five years, doesn't it?
Think about what's happened since you signed your Will. Maybe you've sold a property, remarried or loaned someone some money? Maybe your children have been divorced and you want to protect your grandchildren's inheritance?
If this sounds like you, now is the time to review your Will.
On this, our fifth anniversary of business, we invite all our valued clients to visit us at the new Western Legal, Wealth and Finance Centre on 179 Grange Road, Findon, to discuss your continuing estate planning needs.
We would particularly like to thank all our friends in business, those who've referred their trusted clientele to us. Without you, we wouldn't be where we are today.
~ Greg and Jason – 4 March, 2019