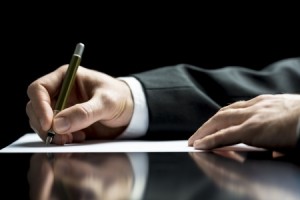 We all know grammar is important, but imagine a single comma costing you $5 million?
That is the reality for a dairy operation in the United States, after local courts ruled in favour of delivery drivers who argued the absence of a comma in their workplace laws meant they'd been illegally underpaid.
It all boils down to the use of an Oxford comma; used to separate items in a list of three or more things.
The delivery drivers successfully argued that an overtime exemption was incorrectly applied to them because, without an Oxford comma, the exemptions could be looked at as individual items, rather than a list.
It might sound like the kind of pedantry that belongs on ABC radio, or in a very polite argument in a dusty corner of a university reading room, but it's a timely reminder that the law is all about the written word, and the courts are strict in their interpretation.
Here's an example:
Let's eat, grandma.
And;
Let's eat grandma.
Same words, but a comma makes all the difference.
So, imagine the pitfalls you might encounter with off-the-shelf contracts, or a legal will written using a DIY template.
Sure, a misplaced comma in your will doesn't mean you accidentally leave the house to the cat, but think of it this way; is it worth the risk on the most important document you'll ever sign?
Wills determine what happens to your assets when you die, and unfortunately, wills are sometimes challenged.
That's why it's always important when dealing with legal matters to employ the services of an expert – someone that knows the traps and tripwires of our complex legal system.
Sure, it's an extreme example – a single comma costing $5m – but it's an illustration of what's possible when someone decides to challenge a legal agreement.
As lawyers, we see it all the time. Especially when a family has a few more assets or there's been some complicated relationships.
You have to ask; is a stray comma worth the risk? No, of course it's not.
If you need a will, or advice on any legal matters, speak to Welden & Coluccio Lawyers.
We're specialists in wills and estates, recognised leaders by Doyle's Guide (2016/17) and take pride in helping our clients build rock-solid estate plans.