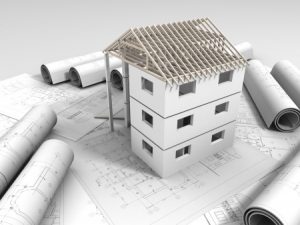 My wife loves nothing better than a project (probably symptomatic of her chosen profession as a high school teacher).  So I wasn't too surprised then when she came to me with grand ideas of building a holiday house.
"It will be fun," she told me, "think of it as an adventure."
When I finished rolling my eyes I proceeded to remind her of all the problems associated with the process of building.
"Haven't you watched Grand Designs?" I implored, "Something always goes wrong."
My wife became thoughtful for a moment, "True, but it won't be like that for us.  I'm not suggesting we self-build. We can use one of those off-the-plan big builders.  It will be easy."
Somehow, perhaps it was her enthusiasm, more likely I had simply fallen victim to the lure of a Greg Norman golf course; but we found ourselves the proud owners of a small piece of land in Port Hughes.  Having allowed ourselves a full 12 months to bask in the glory of this hassle-free achievement, we commenced the serious business of finding a builder to make our dream reality.
Finding a design was the easy part.  A "leading builder" with considerable reputation specialising in holiday and coastal type homes, had the perfect design.  In fact, it was so perfect that one could be easily fooled into believing that it had been specifically designed for our block.  We set to work, modifying the design to meet our requirements, paying for a soil report so that a contract could be drawn up.  We were smiling glassy-eyed with the delusion that we would be celebrating Easter 2017 in our holiday house by the coast.
It was not to be.
Our first indication that something was wrong was when the building consultant refused to permit us access to the contract prior to signing.  It was a reasonable request I thought, and one which any lawyer worth his weight would insist upon.
"No, we don't do that.  You have 7 days to cool off though.  You will get a copy of the contract once it is signed."
Viewing any contract prior to signing is a reasonable request.  In fact, any contract should be read away from anything which may find you distracted from the finer nuances of the document.
A refusal to provide clients with a contract prior to signing is a strategy on behalf of the builder that enables them to exert pressure upon the buyer to sign what is frequently an unfair contract.  What's more, it is often followed immediately by colour selections, so that by the time you leave your mind is so filled with the excitement of tile and counter samples that you are distracted from the actual contract…..never mind the 7 days to cool off; that is long forgotten.
We did, however, manage to get a copy of the contract prior to signing.  I suppose the threat of walking out the door and never coming back was enough impetus to get them to come forth.  It is just as well that we did.  What was presented to us was a contract littered with pricing provisions.  Put simply, we were being asked to commit to a contract where prices for significant items were not fixed.  That is, our contract was filled with unknown costs and a very real possibility that the budget we had set for our build had the capacity to blow out, big time.
To rub salt in the wound, this standard (and apparently "unmodifiable" HIA contract) was not subject to finance.  The subject to finance clause was there alright, but it had been struck out.  The pieces were starting to come together and I was horrified.  Signing such a document had the potential for disaster, a budget that was not fixed, and what was more, should it blow out we stood to remain committed to the build irrespective of whether or not we could afford it.  This is the stuff of nightmares and it is the very stuff that places you at risk of financial ruin.
With these and other contractual issues (too numerous to mention here), coupled with a builder who was losing credibility by the second, we walked away confident in the knowledge that we had saved ourselves from some huge headaches.
Quite alarmingly, as the sales representative reminded me, most people (and by this I mean 99 % of people) don't ask to see a contract prior to signing and few seek independent advice on this contract during the cooling off period.  In other words, most people will not be as fortunate as we are.  This is what makes building so hard.
What we learned from the experience
Building is not easy. It is not just about getting the right design, more importantly it is about finding a builder who is willing to negotiate with you to prepare a fair contract that benefits both parties and one which ensures that the builder will stand by the quality of the work.
Always ask to see a contract prior to signing. Use the time prior to signing as an opportunity to read it (line by line).  Remember every word is important as the omission or addition of a single word can be catastrophic for you as a consumer.
Seek professional (and independent) support when reading the contract. Lawyers with a good understanding of contract law are equipped to identify some of the less obvious implications of specific clauses (and the ones which the builders will gloss over).
Don't be shy about asking for amendments to the contract. Remember, a contract is a deal between two parties and as such there should be some room for negotiation.
Never trust the word of a builder. For example, if it is important to you that you have staged independent inspections then get it in writing (preferably in the contract).
Trust your intuition. If it feels wrong walk away.
While there are some wonderful builders out there, and while a bad contract does not necessarily mean that the builder's work is consistently poor, signing such a contract can be treacherous should the building process not move as seamlessly as you would like.  A fair contract works to safeguard you financially whilst also ensuring that you receive a quality product even when unforeseen bungles occur.  From a position of experience, I can cite too many cases when many years down the track consumers have found themselves still in court (minus their 'Dream House"), at the mercy of a judge's verdict, all over a mess that may well have been avoided had legal advice been sought at the contract stage. Remember, when such matters go to court the Judge's final verdict will ultimately depend on the actual wording in the contract.
For us this means we wait.  It also means that we are placing our build in the hands of a builder broker.  Stay tuned for updates on our process and also why a builder broker is an unusual, but worthwhile choice for would-be builders.
Onwards….and hopefully upwards.