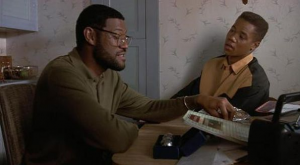 If you were a kid in the 80s and 90s, there's a harsh lesson in getting your estate in order in the untimely passing of cinema legend, John Singleton.
Singleton is probably best known for his gritty coming-of-age drama, "Boyz n The Hood".
The movie tracks the story of Tre Styles, a talented young black American caught between two worlds; the crushing poverty of LA suburbia, and the opportunities offered by higher education. Does Tre accept his fate, or take action to break out of the cycle of violence and poverty?
The film was a rallying cry to black Americans trapped in the crack and gang epidemic of the early 90s, and took the message that knowledge is power, pushed by rappers of the day, to the screens.
The film featured megastars like Ice Cube and Cuba Gooding Jnr, but it's perhaps the character of Furious Styles, played by Lawrence Fishburne, who was the stand out of Boyz n The Hood.
Furious was a voice of reason, urging young black men to eschew the easy lure of money and power that gang membership offered, and instead get educated, financially savvy and learn to use the system in their favour instead of becoming victims destined to die in a shootout or at the bottom of a bottle.
Watching the film, it's clear that Singleton was pouring his own experience of growing up in South Central LA into the character of Furious, who was a father figure his generation needed.
It's somewhat ironic then, that Singleton, a man who literally dragged himself up from South Central,  died with a Will that was out of date and could cause headaches for his children.
According to reports, Singleton's Will was executed in 1993, the same year as Boyz n The Hood changed his life forever.
At the time, he was new to the film game and had only one child. Fast forward to 2019 and he's had a long and successful career, earned a truck load of money, and had six more children – allegedly none of whom are named in Singleton's original Will.
Now there's nothing to suggest his children will launch costly estate litigation to get an equal share, they might get along, or there's a handshake agreement in place, but it's a risk you simply should never take.
The lesson here is to treat every major milestone in your life as a reason to revisit your estate plan.
New house? Time to review.
New baby? Time to review.
Starting a business? Time to review.
New relationship?….you know the motto!
It's not hard. You just need to be proactive.
Remember, knowledge is power.