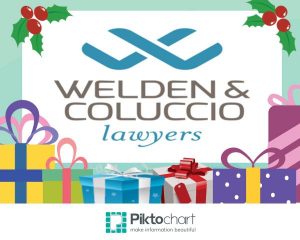 As 2016 draws to a close we wish to thank our loyal clients, referrers and professional colleagues for their continued support this year.
We wish to announce that both our Prospect and Flinders Park offices will be closed from Thursday 22nd December and will reopen on Tuesday 3rd January.  However, as always, a closed office does not mean that we are not available.  Should you require urgent assistance during this period please feel free to contact Greg or Jason via email or mobile.
From our family to yours we hope that this Christmas season will be filled equally with moments of peace and the joy of family. May you move into the New Year with a sense of hope-filled optimism that blossoms into prosperity.
Season's Greetings
From Greg, Jason and the team at Welden & Coluccio Lawyers